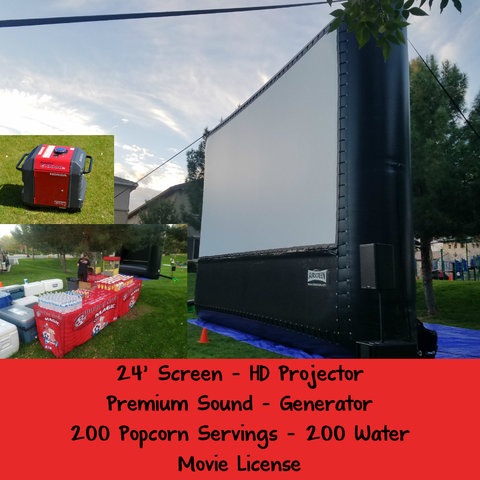 24' All-Inclusive 200 Guest Package




$2,580.00

Please call to reserve this item.

Want a stress free movie event. This is the package for you. We include Popcorn, water, attendants and the movie license of your choice. That's right all inclusive rental takes care of everything you need. Just bring a chair, find a spot, sit back and enjoy the movie.
This package has it all to entertain your crowd. Not only do you get a huge 24' wide x 13' high (that's 330" diagonal) viewing area screen, an Optoma HD projector and QSC premium sound, but you'll have our friendly attendants making fresh made popcorn and handing out ice cold soda, water and Capri Suns throughout the movie. You can also add some flavor to your popcorn with our Flavor Shakers.
Package includes:
A Huge 24' x 13 (330" diagonal) Airscreen inflatable movie screen
7500 lumen Optoma HD projector
2- QSC 2000 watt K10.2 speakers
QSC 2000 watt Subwoofer
Honda super quiet generators
Large popcorn machine
200+ servings of popcorn PLUS flavoring
200 servings of ice cold soda, water, and Capri Suns
2 attendants for the movie and popcorn
Garbage bins and trash removal
Movie License of your choice. Choose any available movie and we will take care of the rest.
Expecting more than 200 guests, no problem. We can add more servings based on your estimates. Call the office for more information. 480-331-8548